Dyscalculia can be stressful, not just for the child but for parents and teachers as well. But don't worry, having dyscalculia doesn't mean you can't learn math, it only means you learn math differently from what's normally taught in school. Here, I've compiled a list of various methods to help parents and teachers teach to a child with math learning difficulties.
1. Use Concrete Manipulatives
Manipulatives are objects used as tools in teaching. They are objects the child can touch and use to help understand real world mathematics. Concrete manipulatives include objects such as: dice, dominoes, cubes, charts, counting objects, geoboards, coins ect…They can be found at almost any store.
2. Play games with dice and dominoes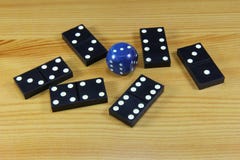 Playing games with dice and dominoes can help teach counting by recognizing spot patterns
3. Focus on games and activities instead of worksheets
Playing games and doing puzzles and other activities can help bring understanding to how math relates to the real world.
4. Take a step by step approach
Explain every step as you go and build on prior knowledge. Many people with dyscalculia struggle with remembering what they learned so it may be helpful to review previous steps and find out what they know or remember.
5. Help Construct Visual Models
Help the child draw pictures or build 3D models. This will help them to visualize math and make it more concrete, instead of abstract.
6. Teach Math Language
Teach math language using synonyms such as "add" and "plus," "subtract" and "minus," "divide" and "difference," "multiply" and "times," "equal" and "total," and many more.
7. Teach for understanding
 
The main goal as you teach math should be to make sure the pupil understand exactly what to do and why they are doing it. The "why" being the most important. Often, those with dyscalculia struggle to memorize steps and formulas so don't rely heavily on the memorization of facts and instead make sure they understand why every step is being done.
8. Understand the emotional impact
Having dyscalculia in a world full of numbers can be stressful. Understand that the pupil may become frustrated or depressed and that they may begin to have low self esteem or severe math anxiety.